the closest thing to a home-cooked meal
Delicious and nutritious, Homestyle Creations™ recipes are carefully crafted gently-cooked goodness for your dog. We source the highest quality proteins and vitamin-rich fruits and vegetables and gently cook them in small batches to create complete and balanced food your dog will love.
high quality proteins
US-sourced real chicken, beef, turkey & eggs

steam-cooked
Recipes are gently cooked to retain essential nutrients

real food ingredients
All natural, antioxidant-rich fruits & veggies you can see

fresh from the fridge
No added preservatives, meat meals or by-product meals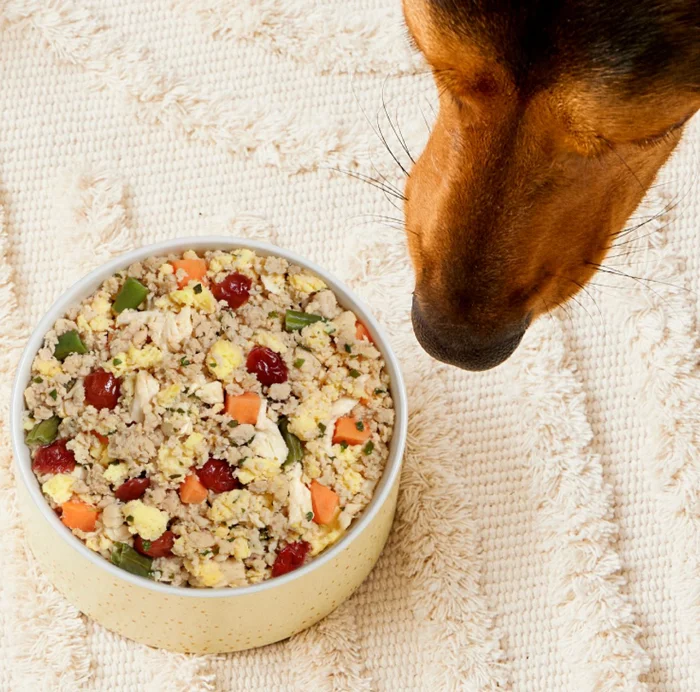 gently-cooked meals fresh from the fridge
Homestyle Creations™ uses the highest quality proteins, fruits, veggies, and scrambled eggs to create a complete and balanced meal that tastes like it came straight from your kitchen to your dog's bowl.
Homestyle Creations™
Try our most-loved recipes.
reviews of Homestyle Creations™
See what pet-parents are saying about our all-natural recipes.
Deliciousness to go

Jackson is very dear to us. He likes your freshpet homestyle creations natural beef recipe. He licked clean his plate. Thank you as he has congestive heart ❤️ failure and it is important that he eat as healthy as possible.

Elana

Picky Old Dog Eating!

I decided to try the patties. And so far they're a hit! I slice like normal whole meat chicken and cut into small bite sized bites and store the rest. Here's to hoping this keeps up!

Rosie

Glad I switched

I tried this as I could see the fresh ingredients- HE LOVES IT! Now he waits by his bowl at dinner time and im happy we found his new favorite!

Mandy

So GOOD!

I love this food for my dog! ONLY CON needs a bigger bag. Love that ... the ingredients are natural. I WILL DEFINITELY KEEP BUYING ❤. Only thing my picky eaters will eat.

Cassie

Beyond Compare

My wheaten terrier has been picky about her food, and has a very sensitive stomach. I've tried a variety of things with limited success, and then I found Freshpet Homestyle Creations. WOW! She gets so excited for meal time, licks her bowl clean, and has solid poops. The price is reasonable, and I can get it at my local Petsmart. Never going back–she's a happy girl!

Josh

Pup approved!

Our red heeler rescue pup LOVES freshpet! Ever since we made the switch she patiently waits by the fridge for her food each evening. We feel good about feeding her fresh ingredients to keep her healthy and support her active lifestyle!

Marta
meet our brands
Everything about your pet is totally unique—including their nutritional needs. Explore our fresh family of brands to discover what's perfect for your pet.