treats you can feel good about
Freshpet™ treats are just as fresh, high quality and as delicious as the rest of the food we make. The ingredients in Freshpet Dog Joy® & Freshpet Dognation™ are sourced using the same rigorous process we have for all our food. Plus, these craveable treats are cooked in the USA. So, you can feel good about handing out a little extra.

real meat
Real chicken or turkey is the #1 ingredient

no by-products
No by-products or artificial flavors

fresh from the fridge
Fully cooked & ready to treat

freshly made in the USA
Locally made in our Freshpet Kitchens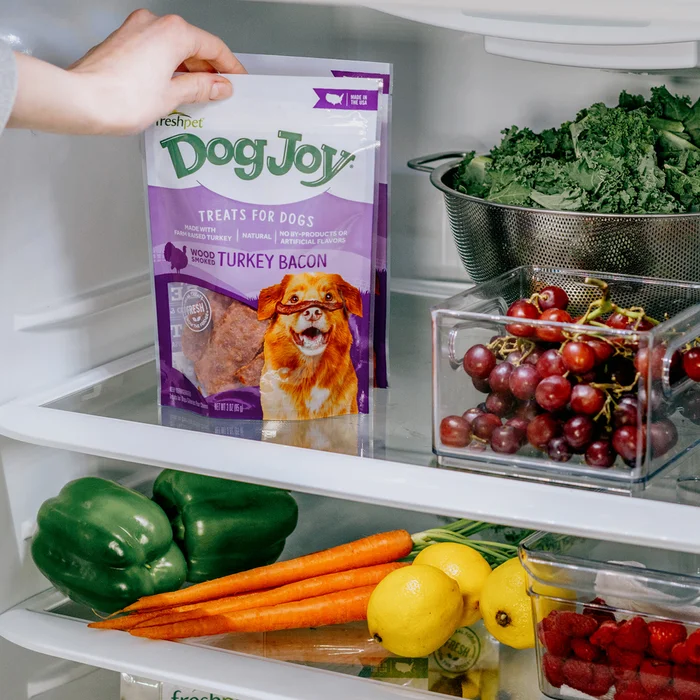 treats fresh from the fridge
Smoked to perfection, our turkey bacon treats are the favorite snacks of pups everywhere.
cravable favorites
These smart snacks are bestsellers for good reason. Try our most-loved treats.
reviews of fresh treats
See what pet-parents are saying about our delicious snacks.
Amazing!

We absolutely LOVE these treats! Meenie (aka "Puppy Girl") is 14 and she is the most pickiest eater we have ever had, but this she LOVES! She has always been slightly picky. We have also switched her to the Home Cooked Chicken Recipe for her breakfast and dinner. I swear it has given her more energy... She is almost puppy-like again when she gets treats! Meenie says "Yes mommy and daddy, tell everyone they are yummy!"

Lily

Finally a treat my dogs will do anything for

I bought this treat not thinking much because if you have a chihuahua you know they do what they want. Well my 2 little ones behave and search for these treats. I am so happy about these treats. The food is great too of course. These treats are a game changer for behavioral issues like barking.

Heather

LOVE ❤️ LOVE ❤️ LOVE ❤️

My first time with this purchase. My Toy Poodle has always been picky so going through many brands of food and treats were costly of last ten years of his life. BUT NOW! My Poodle hears the sound of the bag opening and runs toward the sound with giving him two daily treats.

Leesa

Only treats I'll feed my puppy!

I feel happy when I feed these treats to my puppy bulldog knowing they are healthy and nothing in it I don't know about. I use all freshpet products For my puppy. And my puppy go NUTS for these treats and meal time! He could be outside dead asleep and if I say wanna come in for a treat he jumps up and runs in!

Lexy

Roxie absolutely loves Freshpet Turkey Bacon

Roxie inhales her Turkey Bacon and will dance up and down for it.

JD

Unbelievable love!!!

My Walker Coonhound and "Mexi-Mutt" cannot get enough. Heck! The cat loves her lil pieces too! We've only used the turkey bacon for a few days and already our Snickers (Coonhound) is standing at the fridge requesting it. (For the record, not a happy pup when I say "not yet") It's very l❤️ved in our home! Going to have to buy more, I'm sure. Thanks! Snickers Izzy (and Luuna, too).

pet parent to Snickers & Izzy
meet our brands
Everything about your pet is totally unique—including their nutritional needs. Explore our fresh family of brands to discover what's perfect for your pet.