thoughtfully crafted for your best friend
fresh food made with real ingredients
All-natural, farm-raised poultry, beef, or fish.
Fiber-packed vegetables and antioxidant-rich fruits.
Steam-cooked to preserve nutrients and lock-in freshness.
meet our brands
Everything about your pet is totally unique—including their nutritional needs. Developed by veterinary nutritionists, explore our fresh family of brands to discover what's perfect for your pet.
experience the Freshpet difference
Our nutrient-packed recipes are meticulously crafted by our board-certified veterinary nutritionists.
picky eater approved

shinier skin and coat

healthier weight

increased energy

improved digestion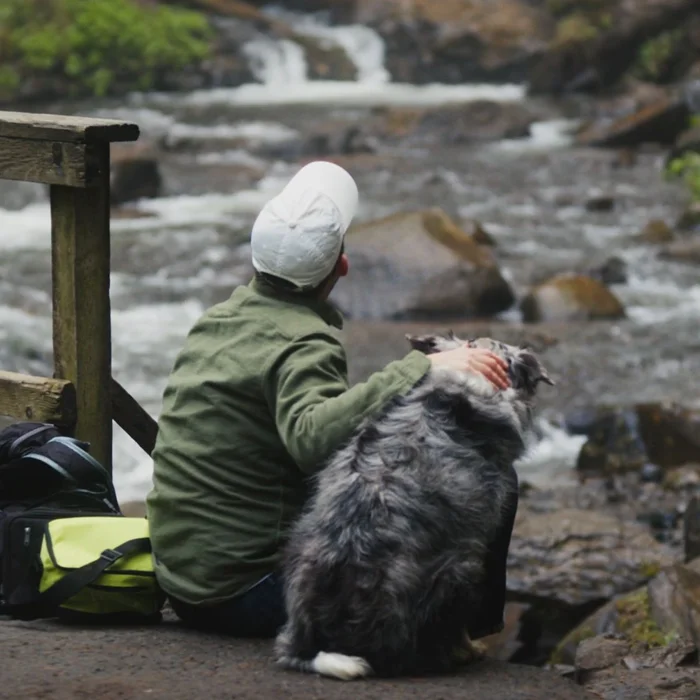 loving the planet we all share
We believe in respecting the planet and treating the natural resources we share with care. This is why we never stop pushing the boundaries of what's possible. And, while we know we're not perfect, we do all we can to lessen our environmental impact while giving pets the freshest, healthiest food.
reviews from real pet-parents
loved by millions of happy eaters
My dog's favorite

The excitement for the product is evident, it is devoured in minutes! My dogs have beautiful coats, clear eyes, no digestive or skin issues, are an ideal weight, and are happy & healthy. They have never had diarrhea or thrown up. I keep waiting for that to happen. I attribute it to the quality ingredients and the care that Freshpet puts into their product.

Janet

Amazing!

We absolutely LOVE these treats! Meenie (aka "Puppy Girl") is 14 and she is the most pickiest eater we have ever had, but this she LOVES! She has always been slightly picky. We have also switched her to the Home Cooked Chicken Recipe for her breakfast and dinner. I swear it has given her more energy... She is almost puppy-like again when she gets treats! Meenie says "Yes mommy and daddy, tell everyone they are yummy!"

Lily

Picky Maltese loves!

I have a Maltese who is very picky and has skin allergies. This food is amazing, he loves it as a topper to his dry kibble and finally looks forward to eating! I'm very happy and so is he!

Melissa

Finally a treat my dogs will do anything for

I bought this treat not thinking much because if you have a chihuahua you know they do what they want. Well my 2 little ones behave and search for these treats. I am so happy about these treats. The food is great too of course. These treats are a game changer for behavioral issues like barking.

Heather

Love

My German shepherd is pretty picky but since starting her on pet fresh she eats everything! Her coat is soft & shiny since I switched her to fp too! Highly recommend.

pet parent to Marley Herbert

Senior Dog thriving

I started my senior (13) Corgi on this two months ago. The old dog that was dragging all the time, is no more. He gallops when called, he gets excited for feeding times, his eyes are bright, and he has actually lost weight. I switch between the beef and the chicken with no problem. I am so thrilled with the remarkable difference in Jeb.

Jeb

Waffles Approved

Waffles was not happy with almost any food that we tried for several years. You could tell he did not feel good. After about a year on Freshpet he is doing great and really happy to eat every meal.

Jim, pet parent to Waffles

great product

My boy Rooney had a weight problem and I tried everything including science diet nothing worked, finally tried fresh pet and 5 months later BOOM! He's at 24.6 lbs down from 33.3 lbs, one good meal a day and a couple of good walks and the results speak for themselves!!

Danny, pet parent to Rooney

My dog loves it!

My German Shepherd would not eat no matter what I tried feeding him. He was under weight for his size. Thanks to Fresh Pet, he has been eating now going on four days in a row. I'm really happy that he has been eating, and I know he is getting nutritious food.

Diesel

Finally eating and gaining weight

My year old husky had a rough time, he constantly had diarrhea or just refused to eat. We went through a years worth of various dog food to only have the diarrhea return. He was underweight, only 45 pounds. Decided to try Freshpet, he has gained weight and is always ready to eat. He has gained 6 pounds and is now a happy dog.

Dee

Thank YOU!!!

I bought your product about five weeks ago. My dog is about 20 lbs and I had given up on him eating any dog food--period. Now, he totally loves his food and his digestion is much better. He eats all of his food---never happened before. Thanks so much.

Lori

Great food for picky eaters!

I adopted my golden retriever from our shelter last week. I have tried 5 different high quality dog kibble brands, but she wouldn't touch it. Finally I tried the Freshpet and she LOVES it! I can rest easy knowing that my sweet dog is getting the nutrients she needs. Thank you so much!

Smith

Best dog food

My dog loves this food!! He has so much more energy than before. He is 13 years young. I would definitely recommend this food.

Pet parent to Bailey

Mona LOVES it

My 11yo mixed breed, Mona seemed bored with her food and was also having some bowel issues. So we tried Freshpet. Oh my goodness, it's like heaven to her! Absolutely loves it. And no more bowel issues!

Pet parent to Mona

Peanut my ChiChi

Peanut is allergic to grain and as a small dog I worries about her getting the best food possible to ensure her energy levels stay high and she has a happy long life. Freshpet for small dogs grain free is doing just that! She won't eat anything else!

Sarah, pet parent to ChiChi

Best choice ever for sensitive tummies

We have had troubles finding foods for sensitive stomach dogs that our senior dog liked. She not only likes Fresh Pet, it has given her more energy. It is like it's given back 10 years to her life. She's like a new dog. We are so thankful for Fresh Pet for Sensitive Stomach.

Pet parent to Razzie

Stopped our dog's itching immediately!

Our black lab mix named Olive had itchy skin, was biting at her feet and legs, and licking her tummy. We tried everything. Nothing worked. We have two other dogs who eat nothing but Freshpet. One day my wife said, "the little dogs never seem to scratch and itch, why don't we try Olive on Freshpet?" So, we did. It was like flipping a switch. Her itching stopped, and we haven't looked back!

Steve, pet parent to Olive

Great Ingredients

My Waffles suffers from allergies had to change his diet and get him off the kibble. Since being on Freshpet his allergies are under control never again with kibble.

Jenn, pet parent to Waffles

AMAZING!!

My Alusky Smokey is 4yrs old and the kindest and happiest baby ever! We had a hard time finding a dog food that didn't upset his stomach, or that he would be excited to eat. He quit eating consistently he would just nibble here and there. Finding Freshpet has been a blessing as he is eating and when he sees the bag, he gets excited! He loves it. His stomach doesn't get upset and his bowel movements are back to normal!

Pet parent of Smokey

Great food!

We have three large breed dogs (shepherd mix, poodle shepherd mix, American bulldog mix) and we use Freshpet as a dry food topper. It has helped the bulldog's gastro issues immensely. Everyone seems to really like it, even the picky poodle mix.

Shannon, pet parent to Axle

Finally, a food my dog will eat!

My standard poodle stopped eating her high-quality, pricey kibble, decided it was no longer palatable, and lost weight as I scrambled to find something else. After numerous foods and expensive vets bills, I bought Freshpet. I was hesitant to try it as it seemed very similar to The Farmers Dog, which gave her diarrhea and led to another vet visit with lab tests. She went full boar on the Freshpet, no transitioning needed. She's putting on weight, is less anxious and just seems healthier.

Danielle

Best Option!

Our puggle, Blue, is very picky and we've experimented with a LOT of foods and he inhales this food every single meal. He loves it so much! Licks his lips after, his fur and allergies are so much better now and he gets excited seeing the bag come out of the fridge. Best decision ever to buy this!

Beth, pet parent to Blue

The only food our dog will eat!

Rosie is a Standard Poodle and a very picky eater. Poodles are very high energy and keeping her interested in food was always a challenge. Keeping he weight stable was very hard. We started her on Freshpet and she's been a happy, healthy dog who eats all of her food. We are grateful for Freshpet.

Dede, pet parent to Rosie

life saver

My 15 year old poodle decided that he didn't like his dry food anymore after having stomach issues the week before. The vet sent him home with prescription hill science wet food. He had never had wet & ate it the first day but not after that. So after cooking chicken rice & pumpkin…I tried this. He loves it & no stomach issues;

Lauritah

my dog loves this

He absolutely loves this dog food. We have no problem getting him to eat now. I love my dog and will continue to buy this food. It is working wonders for him. Thank You Freshpet for giving a great product. Highly recommend.

Becky

Life changing!

I rescued this Pomeranian in Sept. 2017. She was a mess. I tried various dog foods and was frustrated that she would not eat. Then I discovered Freshpet. Wow! She took to it and looks forward to every feeding. And the best thing is… She is a healthy, vibrant Pomeranian. Thank you Freshpet!

Pet parent to Tiny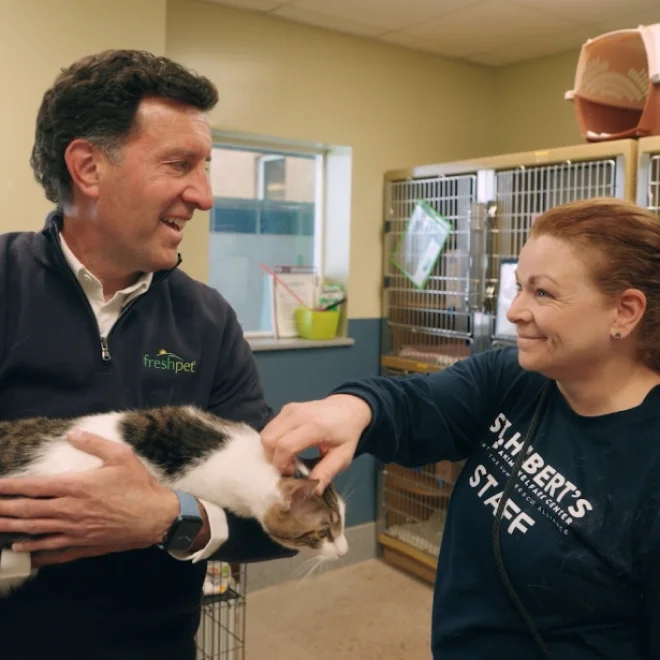 our mission
Delicious, nutritious, and packed with only the good stuff. We are dedicated to bringing the power of fresh, real food to pets.