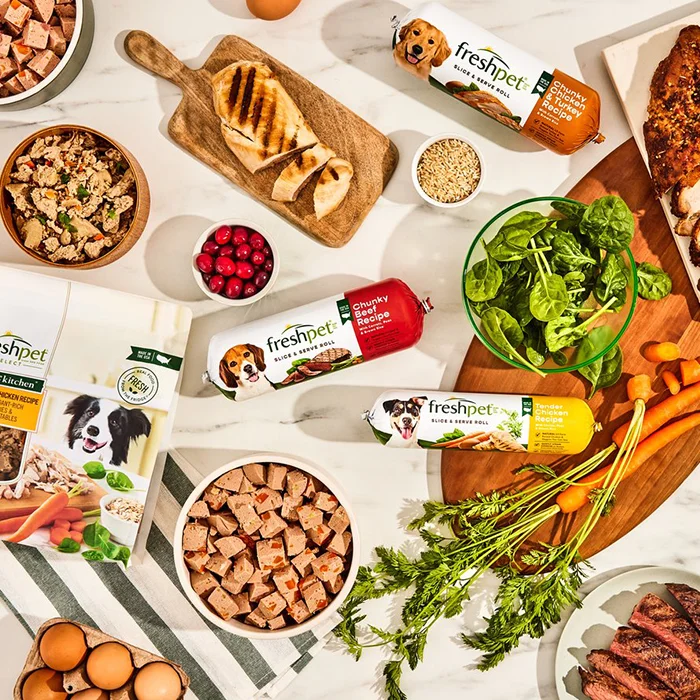 freshpet recipes
Discover the Top 5 Freshpet Recipes Loved by Pet Parents
If you're new here, you may be asking yourself 'What is Freshpet?'. Well, the first thing you should know is that it's not dog food, it's food food™. We say that because each of our recipes is made using fresh, whole ingredients that are gently cooked without preservatives, and is kept in the fridge where real food belongs. Let's take a look at some of the top Freshpet recipes that we designed specifically to help pets live their best lives.
● Why this is one of the top Freshpet recipes: If you want to serve your pup a home-cooked, high protein, fresh meal without the hassle, you will love this recipe from Freshpet® Select Fresh from the Kitchen™. This ready-to-serve bagged meal is made with locally-sourced shredded chicken and essential vitamins from carrots, spinach, and antioxidant-rich cranberries, ensuring it meets all of your dog's nutritional needs.
● What Freshpet parents have to say: "My senior dog has always been somewhat picky about food and this has worsened due to the aging process. She has also been plagued with some periodic IBS throughout the years. She LOVES this food and I swear it has extended her life. She is motivated to get out of bed to eat and then keeps going with her natural energy to cruise the house and yard, which at this point is keeping her vital. She's my baby and I intend to spoil her with it until she goes to the rainbow bridge. She even prefers this recipe over homemade food! It is a real bummer when Target is out because she just doesn't share the same excitement for other recipes." - Freshpet parent Sarah
● Why this is one of the top Freshpet recipes: This slice-and-serve roll is a favorite among pet parents and pets alike and for good reason! Made from two different sources of protein – fresh chicken and egg – as well as vitamin-rich carrots, peas, and high-fiber brown rice, this recipe is as tasty as it is healthy for your pup.
● What Freshpet parents have to say: "We rescued a dog about 2 years ago. Someone had just left her in a parking lot in the middle of winter. After having her awhile we noticed she was having stomach issues. Every time she ate she would throw up or have diarrhea. After many vet visits, and boiling chicken and rice every day for about a year and a half, we decided to try a little bit of my sister's dog's Freshpet. Bracing for the worst, it was the exact opposite. Not only did she love it but she didn't have one issue from eating it. We couldn't believe it, she eats it every day, twice a day, and couldn't be in better shape or health. Thank you for helping our little Sophie LuLu!" - Freshpet parent Ashley
● Why this is one of the top Freshpet recipes: When it comes to the food your dog eats, one size does not fit all. This is why we've crafted this hearty, mouth-watering recipe specifically with smaller dogs in mind. Every batch is formulated with targeted levels of protein and fat to support the unique high-energy requirements of small dogs. Plus, each morsel contains beef, eggs, and nutritious veggies like green beans and sweet potatoes and is the perfect size for small mouths.
● What Freshpet parents have to say: "I started my 3-year-old Shih-Tzu Chloe on the Freshpet Chicken little bit's about two months ago. She was eating ProPlan. I'm so happy I did she's not itchy anymore and she had tear stains that I just couldn't make them go away. Until Freshpet, now she's not itchy anymore and the tear stains are gone!!!!! I feel so much better now that I found a great food for her and she loves the smell and taste of Freshpet." - Freshpet parent Smith
● Why this is one of the top Freshpet recipes: Each of our Vital® recipes is verified non-GMO, all-natural, and made right here in the USA. What pet parents love about this recipe, in particular, is that it's completely grain-free, high in protein, and made with fresh, 100% natural turkey with a medley of antioxidant-rich spinach, blueberries, and cranberries.
● What Freshpet parents have to say: "My dog Maya has a ton of allergies it's completely crazy! For years I've battled her ever-changing allergies and on top of that, she is picky! I love Maya and I will do anything for her, I did worry a lot every time she decided she didn't like the food I was feeding her. I switched her food I don't even know how many times. I finally came across something she can eat and she loves it! In total, she has about 12 food allergies and 8 environmental allergies! So I consider Fresh Pet to be a lifesaver! Maya has been on their food for over one year with no complaints!!!" - Maya's Freshpet parent
● Why this is one of the top Freshpet recipes: Made using savory pieces of farm-fresh beef, vitamin-rich carrots, and high-fiber brown rice, this recipe is both hearty and tasty. Just like all of our recipes, it's gently steam-cooked to retain essential nutrients and is proven to support healthy digestion!
● What Freshpet parents have to say: "I have two senior Shih Tzu mix dogs that I rescued from a local shelter. Both dogs were in rough shape when I got them. I can't say enough about the almost miracle-like ability of this food to restore the health and appearance of both dogs. They have amazing vitality and are now happy and playful. You would think they are much younger dogs. I've tried a range of different Freshpet varieties and they seem to love all of them, never any left in the bowl and they look forward to mealtime. I am also very pleased with the reasonable cost and minimal packaging waste. I might just be your #1 fan! Thank you Freshpet for saving my dogs!" - Freshpet parent in Erie, PA
While these are some of our top Freshpet recipes, we have dozens of others that are loved by pets and pet parents alike. If you're curious to see what pet parents think about our other recipes, take a look at our reviews. You'll quickly see that when it comes to choosing a recipe for your pet, there really is no 'wrong' choice!