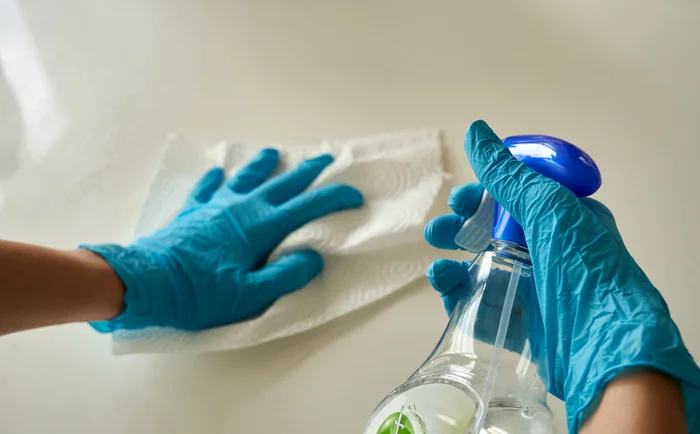 pet wellness
4 Pet-Friendly Brands for Spring Cleaning
The turn of the season warrants some serious cleaning to start anew, so get out your cleaning supplies and say goodbye to dust, grime, and the dreaded fur balls. But before you jump into cleaning mode, take a minute to consider what's inside those cleaning products you have under your sink. Pet parents should be aware of the ingredients that can be harmful to our four-legged family members. We suggest you avoid products that contain ammonia, bleach, formaldehyde, phthalates, glycol ethers, and perchloroethylene. Fortunately, there are a number of brands out there making pet-safe cleaning products – here are four of our favorites.
Mrs. Meyer's Clean Day prides itself on being an earth-friendly brand that does not test on animals. We love everything they have to offer but their kitchen products, in particular, stand out. These products are 100% pet-safe, which means they are a great choice to clean your pet's dishes between servings of their tasty Freshpet recipes. If you're curious about some of the ingredients they use, they have a handy glossary that explains each of them and where they are derived from here.
dog laying down on carpet
Seventh Generation is all about fighting against toxins and making household and lifestyle products that are healthy for our family and pets. Our top pick is their All-Purpose Natural Cleaner from their Free and Clear line, which has no dyes, synthetic fragrances or harmful fumes. As this product can be used anywhere, it's great for everyday cleaning of surfaces your pet interacts with daily.
One thing we love about Method is their mission statement of "Happy homes safe for people, pets and planet," is much in support of our mission. Down to their packaging, everything Method does ties to sustainability and the wellbeing of all family members, both two and four legged. If we had to recommend only one Method product, it would be their Squirt + Mop Wood Floor Cleaner, perfect for dealing with puppy or kitten accidents. These first three pet-safe cleaning products are particularly great for cleaning up some of your pet's own items, such as beds and toys. At the turn of each season, give your pet's bed a good clean – run their bed covering through the wash and scrub down any hard frames the beds sit in.
The fourth pet-friendly cleaning product we can't get enough of is Earthbath. Whereas the previous three brands were geared towards cleaning your home and the pet items in it, Earthbath can be used to actually clean your pet! All of their products are made with natural and organic ingredients and contain no artificial colors, parabens, sulfates, phthalates, and phosphates free. Plus they're made right here in the USA – just like Freshpet! Using Earthbath, you can start doing some of your pet's regular grooming at home. This will help you bond with your pet as well as save on professional grooming costs.