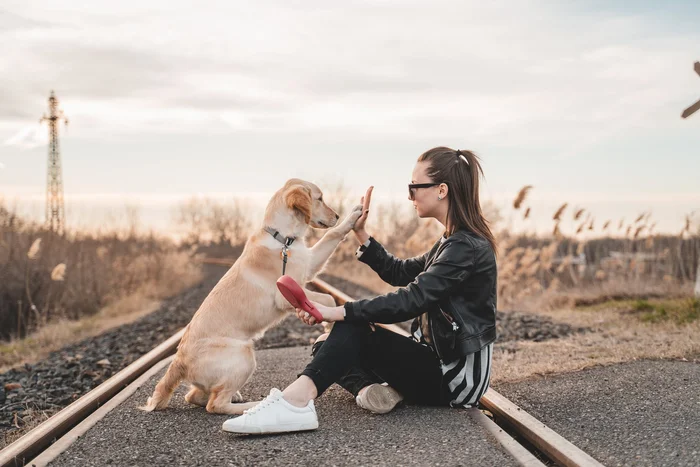 pet wellness
How Being A Pet Parent Will Help You Keep Your New Year's Resolutions
Did you set New Year's Resolutions for 2023? If you did and you happen to be a pet parent, you're in luck! One of the benefits of being a pet parent is that your pets can be a great source of motivation – and inspiration – to stick to your goals. Let's take a look at some common resolutions and how our pets can directly impact them!
Resolution #1: Increase the amount of fresh, healthy food in your diet
There's a reason that every Freshpet recipe starts with fresh, whole ingredients. That's because fruits, vegetables, and meat contain essential vitamins, minerals, fiber, and other nutrients that are critical for maintaining good health. But fresh food isn't just important for the health of your pet – it's just as important for you! Research has shown that eating a diet that is abundant in fruits and veggies may actually reduce your risk of developing cancer and other chronic diseases. One of the benefits of being a pet parent is that our pets can directly help us stick to this resolution. That's because if one of your goals for 2023 is to make the switch to Freshpet () for your pet, every meal time will be a reminder for yourself to opt for fresh choices on your own plate!
Resolution #2: Mix up your exercise routine
The start of the year is a great time to either get into – or mix up – a consistent exercise routine. Regardless of which category you fall into, one of the benefits of being a pet parent is that you have someone not only to motivate you but to join you as well! A fun way to motivate yourself to stick with this new routine is by getting into an activity that your pet can participate in as well.
Agility: Agility training isn't just a great way to increase your pet's athletic ability – it will help keep you in shape as well! You might not be navigating the obstacles, but you'll be running alongside your pet as they do.
Walking: Walking is a great low-impact workout for two- and four-legged creatures of any age. It's also the perfect time to help your pup master loose-leash walking, which is a critical skill they'll need if you ever want to progress to running.
Running: If your dog has mastered loose leash walking and has sign-off from your vet to begin running, you're ready to go! Just remember to build strength and endurance slowly, adding small stretches of running into your walks and building up over time.
Swimming: If you have a water-loving dog, swimming is a great sport you can enjoy together during the summer months. With their leash securely attached, choose a quiet, shallow spot that is designated for dogs to swim and start exploring the shoreline. You may need to start by walking alongside your dog, but as they become more confident you can swim alongside them.
Resolution #3: Try new things
It can be easy to get stuck in the same old routine, but your pet can help you break out of this cycle. Another one of the benefits of being a pet parent is that your pets can be great motivation to try new things.
Cook new recipes: Challenge yourself to try a new recipe every week – bonus points if you can share it with your pet! Start by looking at our list of pet-safe human foods and see what tasty creations you can make using only ingredients from this list.
Try out a new sport: If one of your New Year's Resolutions was to mix up your exercise routine, this is the perfect chance to try out a new sport that both you and your pet can enjoy, such as agility. The great thing about agility is that it's not just a sport for dogs – cats can also enjoy navigating through obstacles you set up in your house or out in your yard.
Visit new restaurants, cafes, and bars: A growing number of hospitality establishments are offering pet-friendly seating areas so that patrons can enjoy a bite or drink with their four-legged friends. Make a list of all the pet-friendly restaurants, cafes, and bars in your area and try working your way through them during the next 12 months.
Resolution #4: Prioritize your mental health
The past few years have been challenging, to say the least, so it's not surprising that many people are looking for ways to prioritize their mental health every day. A great benefit of being a pet parent is that pets naturally provide several mental health benefits.
Reduce stress: Research has shown that pets have a natural ability to reduce stress in their pet parents simply by being around them. One study found that after just three months of being pet parents, there was a significant decrease in blood pressure and reactivity to stress.
Look for new social connections: Having a strong social network can play a big role in your overall happiness. A huge benefit of being a pet parent is that your pets can help you make new connections in your community. Whether it's by meeting new people at the dog park or trading cat-sitting services with neighbors, your pets make it easier to make the ice and meet new people.
Add structure to your day: Having some form of structure to your day can help you feel more grounded and give you a sense of purpose and achievement. Pets are creatures of habit, so they will naturally help you stick to a daily routine – even if it just revolves around their food, walks, and playtime!
Resolution #5: Start volunteering regularly
Research has proven that regular participation in volunteer activities has a wide range of benefits, such as increased sense of purpose and meaning, as well as decreased stress and feelings of loneliness. Another one of the benefits of being a pet parent is that your pet can open the doors to a whole world of volunteer opportunities.
If your pet was adopted locally through a shelter or rescue, inquire about volunteer positions with them. These could range from hands-on work with the animals or even fundraising and administrative work if that's what you prefer.
Another great idea is to look for organizations in your community that provide ongoing support to pet parents in need. For instance, some organizations provide pet-sitting services during hospital stays, transport to vet appointments, or even rehoming support if pet parents are no longer able to care for their pets due to age or serious illness.
For more great ideas of volunteer opportunities, you can do with your pet, take a look at this list of ideas from National Random Act of Kindness Day.
We hope that we've given you some ideas of resolutions you and your pet can work towards together in 2023!