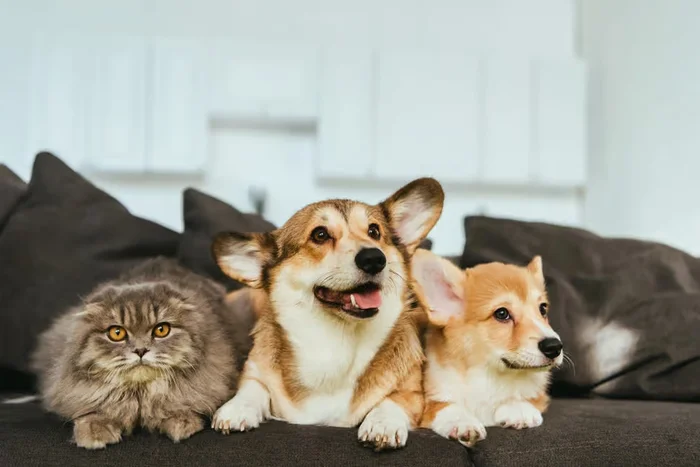 dog nutrition & feeding
Breaking Down the Label: Great Ingredients Make Happy, Healthy Pets
Ingredient labels help us make informed choices about the foods we buy, but it can be difficult to know what to focus on with so much information on these labels. This is especially true when looking at labels on pet food, as they look similar to those on our food packaging, but contain slightly different details.
We asked our Freshpet vet, Dr. Aziza, to break down these labels so we can better understand why great ingredients make for happy, healthy pets.
WHAT ARE ANTIOXIDANTS AND WHY ARE THEY HEALTHY FOR MY PET?
Antioxidants are substances that help to remove damaging oxidizing agents, like free radicals, within a living being. Too much damage from oxidizing agents can lead to cellular damage, making it easier for cells to grow old faster or behave in abnormal ways, like developing cancer.
Antioxidants are also great in helping the body treat inflammatory diseases like osteoarthritis and skin allergies. Thankfully, antioxidants can be found in vitamins, minerals, herbs, and food, like cranberries – which are found in many of Freshpet's Fresh from the Kitchen recipes, including the Vital® Grain-Free Turkey Recipe With Cranberries and Blueberries for Dogs.
cranberries growing on a bush
WHAT ARE THE NUTRITIONAL BENEFITS OF FEEDING STEAM COOKED MEAT?
It's imperative that pets have a well-balanced, high-quality diet, and a key factor in this is how the food is cooked. Ingredients typically retain more of their nutritional value when they have been gently cooked rather than cooked in high temperatures for prolonged periods (a method that is often used in dry kibble). This is why we gently steam our recipe at low temperatures then vacuum seal each meal to lock in the natural goodness.
Having ingredients that are steamed, like the chicken in Freshpet® Select's Sensitive Stomach and Skin recipe, allows for a significant amount of nutrients found in these ingredients to be readily absorbed by the body.
ARE ALL FRUITS AND VEGGIES HEALTHY FOR MY PET?
Not all fruits and veggies are healthy for your pets. Some fruits like grapes or veggies like rhubarb are toxic to dogs. Thankfully, there is a wide range of other fruits and veggies for your pet to enjoy that are great sources of vitamins, like carrots and spinach – both of which are found in many Freshpet recipes. If you have any concerns about potential food toxicity toward your pet, make sure you reach out to your veterinarian to confirm if it's okay before feeding your pet.
WHICH INGREDIENTS DO YOU SUGGEST LOOKING FOR IN PET FOOD IF MY DOG NEEDS TO LOSE WEIGHT?
Unfortunately, obesity is very prevalent among pets. Although it may seem harmless, obesity makes it easier for pets to develop diseases like diabetes, heart disease, among others. If you are concerned about the weight of your pet, diet and exercise are strongly recommended. Like humans, having a well-balanced diet that has a great source of antioxidants, and fiber is recommended when choosing diets to help with weight loss. Look for ingredients like brown rice that's found in Nature's Fresh® Beef or Chicken recipes. It's also a good idea to consult with your veterinarian or a veterinary nutritionist to determine the ideal amount of food that is recommended for your pet to help reach your weight loss goals.
WHICH INGREDIENTS ARE MOST BENEFICIAL TO FEED A SENIOR DOG?
The health and dietary concerns of pets can change as they move into their senior years. While choosing a diet for your senior dog, consider their current diseases and what ingredients are best suited for them.
For instance, a senior dog showing signs of osteoarthritis will benefit from foods that are rich in antioxidants like the cranberries or blueberries found in Vital® Grain-Free Chicken Recipe with Spinach, Cranberries, and Blueberries for Dogs to help with chronic inflammation. If your senior dog is showing signs of a sensitive stomach, then ingredients like chicken found in Freshpet's Sensitive Stomach and Skin recipe is recommended.
WHAT ARE THE BENEFITS OF FEEDING FISH TO MY PET, SUCH AS SALMON?
Fish, like salmon, is a great source of Omega-3 fatty acids. Omega-3 fatty acids help to decrease inflammation, support kidney and heart health, treat itchy and flaky skin, promote a healthy coat, and more. If your pet is having skin and coat problems, I recommend trying out Freshpet's Nature's Fresh® Grain-Free Multi-Protein recipe for Dogs or the Freshpet® Select Grain-Free Gourmet Paté with Salmon for cats.
HOW DO I KNOW WHAT TYPE OF PROTEIN I SHOULD FEED MY PET (AND WHAT TYPE OF PROTEINS ARE BEST?)
The best type of protein to feed your pet depends on your pet. If they have any underlying health conditions, this could impact the type of protein they should eat.
Allergies: Pets who have food allergies are typically allergic to the protein source. Although most pets will be ok with eating chicken, some will be better off if they eat meals made up of bison or turkey.
Dry skin: If your pet has dry skin, salmon may be a better protein due to it being a great source of omega fatty acids.
Stomach problems: If your pet tends to have stomach problems, then chicken is generally recommended.
It comes down to choosing the main protein for your pet based on what they need at a particular time. If you're not sure, contact your veterinarian for recommendations.
WHAT ARE THE BENEFITS OF FEEDING MY DOG EGGS?
Eggs are a great source of vitamins, minerals, proteins, and omega fatty acids – which are great for dry skin, poor coats, and inflammation. Although it's safe for dogs to eat eggs, it is not recommended to feed them raw due to the increased risk of contracting diseases from bacteria like Salmonella. Instead, consider feeding your dog Freshpet's Homestyle Creation recipe that features scrambled eggs. It's also worth noting that if your dog has a chicken allergy, then chicken eggs are not recommended.
IS IT BENEFICIAL TO FEED MY PET GRAINS?
Dogs are omnivores, meaning their diet consists of meat, grains, and vegetables. Grains can be beneficial to a dog's diet, especially because they are a good source of fiber and carbohydrates. It's also quite rare for a dog to have a grain allergy since most food allergies are due to the protein source. However, unlike dogs, cats do not require grains and can have a well-balanced diet without them.
We hope that Dr. Aziza was able to help you better understand the science behind food labels. If you have any further questions about what you should be feeding your pet, schedule an appointment with your veterinarian or a veterinary nutritionist.