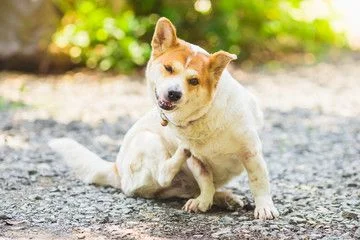 freshpet recipes
How to Tell if Your Furry Friend Will Benefit from a Dog Food for Sensitive Skin
Today's pet food market is full of options that can help pet parents address the evolving needs of their dogs. One option that has been increasing in popularity among pet parent communities over the years is dog food for sensitive skin. These recipes can help alleviate discomfort for dogs with skin and gastrointestinal issues. Here, Freshpet explores how pet parents can tell if dog foods such as Freshpet Select Sensitive Stomach & Skin may be a good fit for their dogs.
Is Your Dog Having Skin or Coat Issues?
Skin and coat issues are one of the largest reasons pet parents consider a dog food for sensitive skin. Skin and coat issues can present themselves in any number of ways, with some common examples being dry/flaky skin, redness, and irritation. Freshpet Select Sensitive Stomach & Skin is rich in Omega 3 and 6 fatty acids as well as Vitamin A to promote cell function, immune function, while helping dogs maintain healthy skin and coats.
Freshpet acknowledges that it is worth noting that there are several reasons dogs may be experiencing skin or coat issues. Environmental allergies including mold, grass, trees, pollen, dust mites, or fleas are a common cause of skin irritation in dogs. Food can also be a common trigger for allergies, and many pet parents are unaware that proteins from foods such as dairy, beef, and soy can be sources of allergens in some dogs.
A quick trip to the vet can help you determine the source of your dog's skin or coat problems. If they are due to environmental issues, a vet may recommend oral medications and a diet rich in fatty acids to defend against any residual itchiness and irritation. If your dog's allergy symptoms are a result of their diet, the vet may recommend switching to a dog food for sensitive skin as they have ingredients and nutrients that may be more suitable than their current food.
Does Your Dog Show Signs of Gastrointestinal Problems?
Dog food recipes such as Freshpet Select Sensitive Stomach & Skin also address gastrointestinal issues that commonly affect our furry friends. Gastrointestinal issues can present themselves in a number of ways such as diarrhea, vomiting, constipation, loss of appetite, bloating, bleeding, and excessive drooling. These signs can have many different causes, ranging from disease such as cancer to more benign issues such as food allergies, and pet parents will want to consult their vet ASAP to get a clear picture of what their dog is going through. This is because, while a change in diet may have a positive impact on their health, it may not fully address the root cause of the issue.
If your dog is experiencing gastrointestinal issues, it is possible that the vet will recommend a dog food that is specifically formulated for sensitive stomachs. Freshpet Select Sensitive Stomach & Skin features chicory root, a natural prebiotic that contains inulin, a dietary fiber that can be beneficial for bacteria in the gastrointestinal track. Prebiotics feed the "good bacteria" that break down nutrients in your dog's stomach, making them helpful for furry friends that are experiencing tummy troubles.
Are You Looking for Preventative Measures?
Because Freshpet Select Sensitive Stomach & Skin is a complete and balanced meal, it can be given to dogs even if they are not currently having issues with their skin, stomach, or coat for the preventative benefits. After all, dogs often benefit from rotating foods every few months and choices that are easily digestible and high-quality are top contenders for making sure your dog adapts easily to the switch. Studies show that many kibbles do not contain enough Omega 3 fatty acids, and dog foods for sensitive skin can address this gap to keep their skin and coat healthy and well maintained.
Pet parents should be mindful that Freshpet Select Sensitive Stomach & Skin and similar recipes are only suitable for adult dogs, as they do not have the DHA and EPA required to help puppies develop. Stick to puppy formulas until your dog is a year old unless otherwise told by your vet.
Always Consult with Your Vet Before Making a Switch!
When our dogs struggle with problems related to their stomachs, skin, or coat, it only makes sense that pet parents want to address them through their diet. At Freshpet, we recognize that speaking to your veterinarian is an important first step in this process. A vet is a great resource for finding the root causes of issues and suggest recipes with the right ingredients and nutrients to help your dog adapt. They can also provide helpful tips for how to slowly acclimate your dog to a new diet without making their existing issues worse along the way.