how to feed Freshpet Custom Meals®
switching to Freshpet

we always recommend transitioning slowly to Freshpet so that the change is gentle on your pet's tummy.

Start by feeding both Freshpet and your pet's current food, and increase the amount of Freshpet every few days, while decreasing your pet's current food.

Then enjoy the change in your pet's appetite at feeding time, and the lasting benefits you'll notice from our nutritionally balanced meals.

Days 1–3

25% freshpet. 75% old food.

Days 4–6

50% freshpet. 50% old food.

Days 7–10

75% freshpet. 25% old food.

success

100% freshpet!
Freshpet Custom Meals® feeding guidelines
We design a complete and balanced meal plan based on your dog's weight, age, gender, physical condition, activity level, sensitivities, and health goals. We provide feeding guidelines specific to your dog for optimal nutrition.If you're already a Freshpet Custom Meals subscriber, you can find your personalized feeding guidelines on the sticker that is on the case the product was delivered in or visit your Petco Repeat Delivery Management Page profile.

Below is the normal daily feeding amount for a healthy adult dog, based solely on weight. Your personalized feeding guidelines may differ as they account for your dog's age, activity level, body condition, gender and more.
the benefits of Freshpet Custom Meals®
Made fresh and delivered fresh
Looks, smells, and tastes like fresh, real food
Variety of food textures and forms
First order arrives in days instead of weeks
Sustainably prepared in our own USA kitchens
Simply store in the fridge, no thawing needed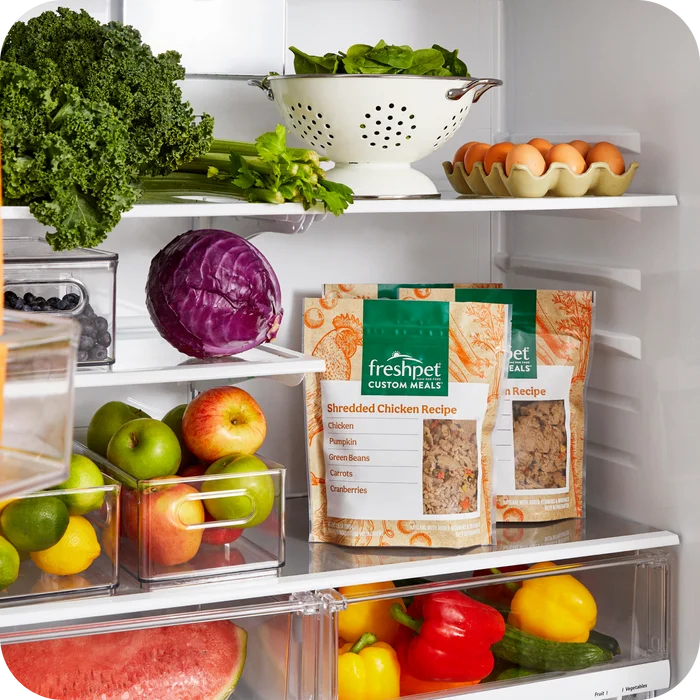 always remember
All Freshpet products must be kept refrigerated at all times and used within 7 days of opening. Our food can be frozen for future use, but please note the consistency may vary after thawing.
Visit your veterinarian regularly to maintain your pet's health. And always, always provide fresh water!